Combined United States/Canadian Postal Codes
Premium Edition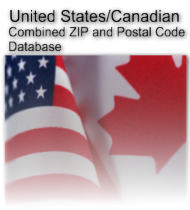 Produced: on or before 5th calendar day quarterly
Current Release: October 5, 2016
Distribution Frequency: quarterly (issue date: January, April, July, October)
Distribution Format: Internet download
Advanced geocoded United States 5-digit ZIP and Canadian Postal Code data. This product contains all United States ZIP codes and Canadian postal codes in a single package.
Contains over 800,000 records. Each record contains the ZIP or postal code, the preferred city or location name with state or province abbreviation and associated latitude and longitude coordinates. This package also includes full time zone information and primary telephone area code associated with each postal code.
Data Field Definitions
SQL Table Definitions
Postal Code Assignments
FIPS County Codes
Field
Data Type
Field Description
PostalCode
VARCHAR(7)
The five or six character post code.
City
VARCHAR(64)
Name of city or location.
Abbreviation
VARCHAR(13)
Standard USPS or Canada Post 13 character city name abbreviation.
CountyName
VARCHAR (64)
Name of primary county, parish, or borough for the ZIP Code location
StateProvinceName
VARCHAR(64)
Full name of the state or province.
StateProvince
CHAR(2)
Official abbreviation of the state or province.
Country
CHAR(2)
ISO 3166 country code.
CityType
CHAR(1)
Postal Service recognition of the CITY field name


D - Default (preferred) city name
A - Alternate city name accepted
N - Not-recommended, used or accepted

PostalCodeType
CHAR(1)
The postal code definition or type for delivery purposes.
FIPS
CHAR (5)
FIPS 5-digit county number
AreaCode
CHAR(3)
Primary area code associated with the post code.
Overlay
VARCHAR (28)
Additional telephone area codes in use when the predominate telephone area code is an overlayed area code.
TimeZone
CHAR(2)

North American Time Zone the post code is located in. Determined using Coordinated Universal Time (UTC) offset also referred to as hours relative to GMT.

NT - Newfoundland UTC -3:30 hours
AT - Atlantic UTC -4 hours
ET - Eastern UTC -5 hours
CT - Central UTC -6 hours
MT - Mountain UTC -7 hours
PT - Pacific UTC -8 hours
AK - Alaskan UTC -9 hours
HT - Hawaiian-Aleutian UTC -10 hours
AS - Samoa UTC -11 (American Samoa)
CH - Chamorro UTC +10 (Guam and Northern Mariana Islands)

DST
CHAR(1)
Daylight savings time recognized, (Y)es or (N)o.
UTC
CHAR (6)
Time Zone Offset
Standard time Coordinated Universal Time (UTC) offset for the geographic delivery area identified by the ZIP Code. Formatted +/-HH:MM
Olson
VARCHAR (6)
Internet Assigned Numbers Authority (IANA) Time Zone Database time zone identifier, also known as the Olson time zone ID, for the ZIP or postal code geographic location.
Latitude
DOUBLE
Latitude in decimal degrees to the center of the postal code.
Longitude
DOUBLE
Longitude in decimal degrees to the center of the postal code.
| Field | Data Type | Field Description |
| --- | --- | --- |
| FIPS | CHAR (5) | FIPS county code |
| CountyName | VARCHAR (64) | Name of the county, parish, or borough |
| State | CHAR (2) | USPS state or territory abbreviation |
| Pop2000 | DOUBLE | United States Census 2000 population |
| Pop2009 | DOUBLE | United States Census 2009 population |
| Pop2010 | DOUBLE | United States Census 2010 population |
| LandAreaSquareMiles | DOUBLE | County land area in square miles |
| WaterAreaSquareMile | DOUBLE DEFAULT | County water area in square miles |
| CountyType | VARCHAR (128) | County or entity type described by county name |
| County_Seat | VARCHAR (64) | County seat or center of county government |

CREATE DATABASE IF NOT EXISTS `postalcodepremium`;
USE `postalcodepremium`;

DROP TABLE IF EXISTS `postalcodes`;
CREATE TABLE `postalcodes` (
	`PostalCode` CHAR(7) NOT NULL,
	`City` VARCHAR(64) DEFAULT NULL,
	`Abbreviation` VARCHAR(13) DEFAULT NULL,
	`CountyName` VARCHAR(64) DEFAULT NULL,
	`StateProvinceName` VARCHAR(64) DEFAULT NULL,
	`StateProvince` CHAR(2) DEFAULT NULL,
	`Country` CHAR(2) DEFAULT NULL,
	`CityType` CHAR(1) DEFAULT NULL,
	`PostalCodeType` CHAR(1) DEFAULT NULL,
	`FIPS` CHAR(5) DEFAULT NULL,
	`AreaCode` CHAR(3) DEFAULT NULL,
	`Overlay` VARCHAR(28) DEFAULT NULL,
	`TimeZone` CHAR(2) DEFAULT NULL,
	`DST` CHAR(1) DEFAULT NULL,
	`UTC` CHAR(6) DEFAULT NULL,
	`Olson` VARCHAR(128) DEFAULT NULL,
	`Latitude` DOUBLE DEFAULT 0,
	`Longitude` DOUBLE DEFAULT 0,
	PRIMARY KEY (`PostalCode`));
	
DROP TABLE IF EXISTS `counties`;
CREATE TABLE `counties` (
	`FIPS` CHAR(5) NOT NULL,
	`CountyName` VARCHAR(64) DEFAULT NULL,
	`State` CHAR(2) DEFAULT NULL,
	`Pop2000` DOUBLE DEFAULT 0,
	`Pop2009` DOUBLE DEFAULT 0,
	`Pop2010` DOUBLE DEFAULT 0,
	`LandAreaSquareMiles` DOUBLE DEFAULT -1,
	`WaterAreaSquareMile` DOUBLE DEFAULT -1,
	`CountyType` VARCHAR(128) DEFAULT NULL,
	`County_Seat` VARCHAR(64) DEFAULT NULL,
	PRIMARY KEY (`FIPS`));