NALENND™
North American Local Exchange NPA NXX Database
Premium Edition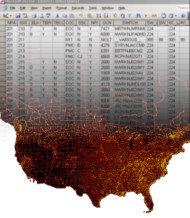 Produced: on or before 5th calendar day monthly
Current Release: October 5, 2016
Distribution Frequency: monthly or quarterly (issue date: January, April, July, October)
Distribution Format: Internet download
The Premium Edition gives you a basic view of the North American Public Switched Telephone Network.
You can use this data to identify all active NPA NXX combinations at the 10,000 block level, identify what areas they serve, and determine if the NPA NXX is for wireless or wireline type service. The data also contains geographic latitude and longitude coordinates identifying the centroid of the basic service area.
This data set is suitable for any application requiring accurate NPA NXX combinations with basic geographic associated information.
Data Field Definitions
SQL Table Definitions
NPA NXX Assignments
County Codes
LATA Codes
Current MSA Codes
Historical MSA-PMSA Codes
| Field | Data Type | Field Description |
| --- | --- | --- |
| NPA | CHAR (3) | Numbering Plan Area code, the first three digits of a 10 digit North American Numbering Plan (NANP) number, commonly called the Area Code. |
| NXX | CHAR (3) | Central Office Code, the first three digits following the Area Code in a 10 digit NANP number, commonly called the telephone exchange or prefix. |
| LATA | CHAR (5) | 3 or 5-digit Local Access and Transport Area (LATA) code. 5-digit LATA codes are used in Florida only, the last two digits are the LATA sub-zone which represent Equal Access Exchange Areas (EAEAs). |
| LTYPE | CHAR (1) | Identifies whether the primary use of the NPA NXX is wireless or landline based on its initial assignment. |
| STATE | CHAR (2) | State or province postal abbreviation of the Rate Center locale. |
| COUNTRY | CHAR (2) | ISO 3166-1 Country Code of the Rate Center locale. |
| RC | VARCHAR (128) | Full name of the geographical Rate Exchange Area, commonly referred to as the Rate Center. A Rate Exchange Area identifies the geographic area (i.e. locality, town, or city) served by a particular NPA NXX combination. |
| ZIP | VARCHAR (5) | 5-digit United States ZIP or 3-character Canadian Forward Sortation Area code for the Rate Center locale. |
| ZIP2 | VARCHAR (5) | Second possible ZIP or FSA code |
| ZIP3 | VARCHAR (5) | Third possible ZIP or FSA code |
| ZIP4 | VARCHAR (5) | Fourth possible ZIP or FSA code |
| FIPS | CHAR (5) | United States FIPS county code or Canadian Census Division code. |
| FIPS2 | CHAR (5) | Second possible FIPS or Census Division code |
| FIPS3 | CHAR (5) | Third possible FIPS or Census Division code |
| CBSA | CHAR (5) | United States Core Based Statistical Area (CBSA) or Canadian Census Metropolitan Area (CMA) code. |
| CBSA2 | CHAR (5) | Second possible CBSA or CMA code |
| MSA | CHAR (4) | Historical 4-digit Metropolitan Statistical Area (MSA) code of the MSA the Rate Center is located in. MSA codes have been replaced with the 5-digit CBSA codes. |
| PMSA | CHAR (4) | Historical 4-digit Primary Metropolitan Statistical Area (PMSA) code of the PMSA the Rate Center is located in. PMSA codes have been replaced with the 5-digit CBSA code. |
| LATITUDE | DOUBLE | Latitude in decimal degrees of the general exchange location. |
| LONGITUDE | DOUBLE | Longitude in decimal degrees of the general exchange location. |
| DERIVED_FROM_NPA | CHAR (3) | Indicates the previous NPA that existed in the area covered by a given NPA. In cases of overlays, some or all of the previous NPAs may still cover the area. The OVERLAY field should be referenced to determine how to interpret this field. |
| NEWNPA | VARCHAR (28) | Specifies the new area code to be used with the NXX or new area code(s) created in the same coverage area as the current area code. The OVERLAY field should be referenced to determine how to interpret this field. |
| OVERLAY | CHAR (1) | Single character field to determine how the DERIVED_FROM_NPA and NEWNPA fields should be interpreted. |
| Field | Data Type | Field Description |
| --- | --- | --- |
| CountyCode | CHAR (5) | Five-digit U.S. FIPS county code or four-digit Statistics Canada Census Division code. |
| Country | CHAR (2) | Two character country abbreviation |
| State | CHAR (2) | Two character state, province, or territory abbreviation |
| Name | VARCHAR (128) | Name of the county or division |
| Type | VARCHAR (80) | Organizational recognition of the county or division |
| LandArea | NUMBER | County or Census Division land area in square miles |
| Pop2006 | NUMBER | U.S. Census Bureau, Population Division or Statistics Canada reported 2006 population |
| Field | Data Type | Field Description |
| --- | --- | --- |
| LATA | NUMBER (5) | The Local Access Transport Area code. |
| STATE | CHAR (2) | Two character state, province, or territory abbreviation of the NPA/NXX Service Center location. |
| COUNTRY | CHAR (2) | This two character field is the ISO 3166 Country Code for LATA location |
| LOCATION | VARCHAR (64) | Generalized name defining the LATA location |
| Field | Data Type | Field Description |
| --- | --- | --- |
| CBSA | CHAR (5) | 5-digit Core Based Statistical Area code (United States) or 3-digit Statistics Canada Census Metropolitan Area (CMA) or Census Agglomeration (CA) code (Canada). |
| CSA | CHAR (3) | Three-digit Combined Statistical Area code if the CBSA is part of a larger statistical area. |
| AREA_NAME | VARCHAR (64) | Official name of the statistical area. |
| STATE | VARCHAR (20) | Abbreviated state code(s) for the statistical area. |
| AREA_TYPE | VARCHAR (64) | Metropolitan or Micropolitan statistical area. |
| Field | Data Type | Field Description |
| --- | --- | --- |
| MSA | NUMBER (4) | 4-digit code assigned by the Office of Management and Budget to the MSA or PMSA code. |
| TYPE | VARCHAR (8) | Identifies whether the code is an MSA (Metropolitan Statistical Area), PMSA (Primary Metropolitan Statistical Area), or CMSA (Consolidated Metropolitan Statistical Area). |
| NAME | VARCHAR (128) | Official name of the MSA, PMSA or CMSA. |
| CMSA | NUMBER (2) | 2-digit code to identify the CMSA. |
| POPULATION | NUMBER | Estimated year 2000 population |

CREATE DATABASE if not exists `nalennd`;
USE `nalennd`;

DROP TABLE IF EXISTS `npanxx`;
CREATE TABLE `npanxx` 
	(
	`NPA` char(3) NOT NULL,
	`NXX` CHAR(3) NOT NULL,
	`LATA` CHAR(5) DEFAULT NULL,
	`LTYPE` CHAR(1) DEFAULT NULL,
	`STATE` CHAR(2) DEFAULT NULL,
	`COUNTRY` CHAR(2) DEFAULT NULL,
	`RC` VARCHAR(128) DEFAULT NULL,
	`ZIP` VARCHAR(7) DEFAULT NULL,
	`ZIP2` VARCHAR(7) DEFAULT NULL,
	`ZIP3` VARCHAR(7) DEFAULT NULL,
	`ZIP4` VARCHAR(7) DEFAULT NULL,
	`FIPS` CHAR(5) DEFAULT NULL,
	`FIPS2` CHAR(5) DEFAULT NULL,
	`FIPS3` CHAR(5) DEFAULT NULL,
	`CBSA` CHAR(5) DEFAULT NULL,
	`CBSA2` CHAR(5) DEFAULT NULL,
	`MSA` CHAR(4) DEFAULT NULL,
	`PMSA` CHAR(4) DEFAULT NULL,
	`LATITUDE` DOUBLE NOT NULL DEFAULT '0',
	`LONGITUDE` DOUBLE NOT NULL DEFAULT '0',
	`DERIVED_FROM_NPA` CHAR(3) DEFAULT NULL,
	`NEWNPA` VARCHAR(28) DEFAULT NULL,
	`OVERLAY` CHAR(1) DEFAULT NULL,
	PRIMARY KEY (`NPA`,`NXX`)
	) 
ENGINE=MyISAM DEFAULT CHARSET=utf8;

DROP TABLE IF EXISTS `lata`;
CREATE TABLE `lata` 
	(
	`LATA` CHAR(5) NOT NULL,
	`STATE` CHAR(2) DEFAULT NULL,
	`COUNTRY` CHAR(2) DEFAULT NULL,
	`LOCATION` VARCHAR(64) DEFAULT NULL,
	PRIMARY KEY (`LATA`)
	) 
ENGINE=MyISAM DEFAULT CHARSET=utf8;

DROP TABLE IF EXISTS `county`;
CREATE TABLE `county` 
	(
	`CountyCode` CHAR(5) NOT NULL,
	`Country` CHAR(2) DEFAULT NULL,
	`State` CHAR(2) DEFAULT NULL,
	`Name` VARCHAR(128) DEFAULT NULL,
	`Type` VARCHAR(80) DEFAULT NULL,
	`LandArea` INT(11) DEFAULT NULL,
	`Pop2006` INT(11) DEFAULT NULL,
	PRIMARY KEY (`CountyCode`)
	) 
ENGINE=MyISAM DEFAULT CHARSET=utf8;

DROP TABLE IF EXISTS `cbsa`;
CREATE TABLE `cbsa` 
	(
	`CBSA` CHAR(5) NOT NULL,
	`CSA` CHAR(3) DEFAULT NULL,
	`AREA_NAME` VARCHAR(128) DEFAULT NULL,
	`STATE` VARCHAR(20) DEFAULT NULL,
	`AREA_TYPE` VARCHAR(128) DEFAULT NULL,
	PRIMARY KEY (`CBSA`)
	) 
ENGINE=MyISAM DEFAULT CHARSET=utf8;

DROP TABLE IF EXISTS `msa`;
CREATE TABLE `msa` 
	(
	`MSA` CHAR(4) NOT NULL,
	`TYPE` VARCHAR(8) DEFAULT NULL,
	`NAME` VARCHAR(128) DEFAULT NULL,
	`CMSA` CHAR(2) DEFAULT NULL,
	`POPULATION` INT DEFAULT NULL,
	PRIMARY KEY (`MSA`)
	) 
ENGINE=MyISAM DEFAULT CHARSET=utf8;

Data format: CSV formatted ASCII text
Record count: 160,511+/-

Download size: 1,669 KB
Download format: zip compressed
Disk space required: 17,743 KB+/-