NALENND™
Wireless Block Data Scrubber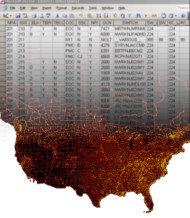 Produced: on or before 5th calendar day monthly
Current Release: October 5, 2016
Distribution Frequency: monthly
Distribution Format: Internet download
The NALENND™ Wireless Block Data Scrubber is a simple solution to scrub any list containing United States and/or Canadian ten digit telephone numbers. No per record expense, no lists to upload or download, you process your lists on any system running Microsoft Windows.
The utility can identify invalid and incomplete telephone numbers, current telephone exchanges and, identify whether a particular telephone exchange is wireless, pager, or landline at the 1,000 block level based on current North American carrier assignments.
The NALENND™ utility cannot identify individual ported telephone numbers. Ported number identification requires the independently licensed Neustar Intermodal Ported Telephone Number database product.
To install the utility, the downloaded file nalennd_wbi.zip should be unzipped to a new or existing folder. Note the files nalennd_wbi.exe and nalennd_wbi.dat must always exist in the same folder for the utility to function correctly.