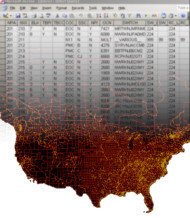 Command Line Utility for Microsoft Windows
The NALENND® Wireless Telephone Number Scrubber is a simple solution to scrub any list containing United States and/or Canadian ten digit telephone numbers. No per record expense, no lists to upload or download, you process your lists on any system running Microsoft Windows.
The utility can identify invalid and incomplete telephone numbers, current telephone exchanges and, identify whether a particular telephone exchange is wireless, pager, or landline at the 1,000 block level based on current North American carrier assignments.
The NALENND® utility cannot identify individual ported telephone numbers. Ported number identification requires the independently licensed iconnectv Intermodal Ported Telephone Number database product.
Extreme input flexibility ... works with any ASCII text comma separated value (CSV) data file, no predefined or required record layout. Simply pass it your data file's name and which column contains the telephone numbers.
This utility has a small footprint with no limit on the input file size. Ready to use ... no installation required, simply unzip the download using PKZip, Winzip, or similar tool. Run it manually from the command line or through your batch or command script.
Produced: on or before 5th calendar day monthly
Current Release: December 3, 2023
Distribution Frequency: monthly
Distribution Format: Internet download

NALENND® Wireless Telephone Number Scrubber User Manual